Janet Venn-Brown
[14th October 1924- 6th August 2021]
I say two days…
Janet was planning her 90th Birthday Exhibition at Palmer-on-Burton when I heard her [laugh], a distinguished resolve that penetrated the space with knowledge and verve. Birdlike in statue, Janet had the candour of a diplomat and a willful individuality to ensure she was heard.

This temperament rallied her an entourage of followers at Tap Gallery where I was first introduced in 2014. Lesleythought she would make good talent for arts radio. I agreed.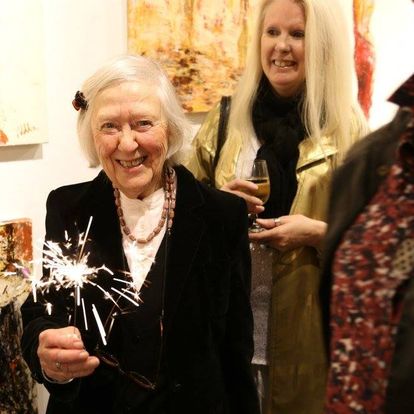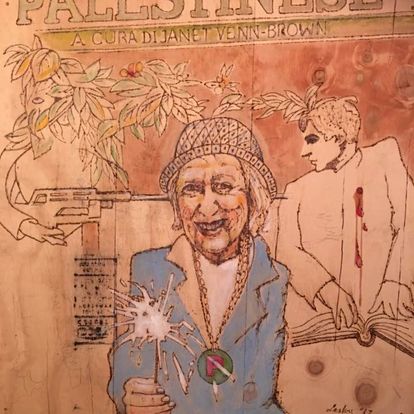 There is no limit to the number of subjects that I could find to paint, but at my age I don't get around very easily or quite enough perhaps… / in a day or a day or two, now. I used to say in a day but now I'm getting a bit older everything is a bit slower I say two days and I like to be able to go and spend two days in somebody's house to do it. Janet Venn-Brown interview, Tap Gallery 2014
Our atlas of memory consists of a kind of textural exposure, which travels in different rooms (of one's own). And so you enter this frame sensing the space itself were a recollection, speaking of some place you, too, knew intimately.

A window on the architecture of living opens with paradigmatic paintings by Janet Venn-Brown. She was in her early 60s when she decided to return to her childhood pursuit of drawing interiors. Moving indoors to avoid the intensity of the Italian city streets of Rome.
The internal and the external of her work through the windows of her Rome apartment culminated in two exhibitions, which were themed, Windows on Rome'. She lived half her life in Rome and these two exhibitions could be likened as an ode for her long return to family and the place of her origin, Sydney. In this social environment she would fondly recall as the delicate light of Italy, she painted her interior surrounds, as they existed for her as a felt absence that would later pass.
On the steps of Rome Janet's fiancée, Wael Zuiaiter was assassinated by Mossad, Israel's secret service in 1972. He was a Palestinian poet, writer, translator targeted for conflicting theories of being involved in terrorism following the Black September attacks on Munich. The deep shock of his death would endure throughout Janet's life. She never married.
Janet's love for books and writing was a common interest she shared with Wael. The assassinations of top Palestinian intellectuals and the intense suffering of the Palestinian people was a cause close to Janet's heart. For a Palestinian: A Memorial to Wael Zuiaiter, Routledge (1984), was edited by Janet. The book comprised of documentation that accounted for daily activities, travels through the Middle East, correspondence with family and friends; essays by French writer Jean Genet and academic Edward Said, in addition to featuring Janet's artistic career with exhibition invitations and publicity.

Janet's portfolio continued to develop from her passion for the architecture of Rome and the Middle East. Her view on the absence of human figures in her work was to reveal how the occupants live. She believed that more about a person could be discovered by observations of their everyday settings.
Janet lived amongst a culturally diverse range of artists in Rome, and was stimulated by a parade of revered painters, authors, academics, poets, photographers, and writers from Australia and around the world. The artist lifestyle she had established in Italy wasn't an easy departure and it took a number of compounding reasons that included her failing memory that would push her return back to Sydney in 2008.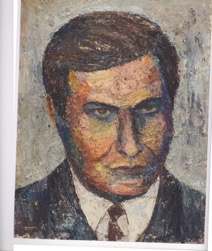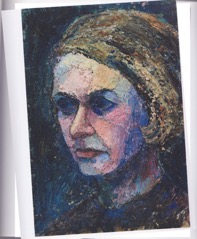 Portrait of Wael Zuiaiter [late 1970s] and Untitled [self-portrait], 1964 by Janet Venn-Brown. Scanned images from the book Janet Venn-Brown: Life in Art, written by Peter Manning, New South Publishing (2016).
Peter Manning is a revered journalist who wrote a biography, Janet Venn-Brown: Life in Art, New South Publishing (2016), which documents her passionate life as an artist with archival photographs and an extensive selection of her art featured.

Peter opens by saying, 'I consider myself lucky to have met Janet,' A Life in Art is a book that, 'celebrates not only her politics but her painterly life.' On the cover is a rare Untitled [self-portrait] from 1964. This was the year that she met the love of her life. The following year her palette knife oil works were shown at her first solo exhibition, inside or outside Australia.
Janet's work emphasises colour and design. Her treatments of familiar interiors rouse a response in viewers. Her dedication to her work was an industrious pursuit, laboured in a frame-by-frame construction of her own life architecture. She had an insatiable list of clients to document their living angles, whose rooms will never make for her dynamic composition.
I cooked fish for her on two afternoons over two days in 2014, as she requested. She painted. She forgot she painted my space. She remembered as it was written down. I was written in her diary to be painted, 'I'm to paint you'. Her determination to achieve at 90 was both admirable and troubling. She did complete. Her outings were soon to be brushed further away towards an ever-increasing inner distance. Her world was becoming more interior but her public experiments and exhibitions continued.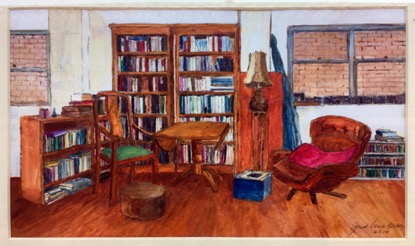 Janet continued with her annual birthday exhibition celebrations at Tap Gallery with the last being for her 93rd in October 2017. The onset of memory loss and the inability to carry out tasks put an end to her public life.
In the moment of observation, what seems solid and vital can by the next be gone or changed completely. What is present is Janet's encounter of them. They remain as a collective memory, a recording in this way reveals caring and contemplation for architecture and its inhabitants.
The extent to which the interior life of a person is revealed by their home is a question Janet continues to pose. It's a familiar question that follows you around layers of memories and histories. The compass formed by these painted places navigates through time as well as space.
Angela Stretch | Running TAP Book Project 2021
Janet Venn-Brown died peacefully on Friday, August 6, 2021 at Elizabeth Lodge, Rushcutters Bay, Sydney. At 96 she was the only surviving sister of siblings Felix, Ian and Helen. Janet is beloved aunt to Gareth, Megan, Louise, Stephen, Fiona (dec), Sarah, Diana, David and Sally, and great aunt to Heidi, Michael, Andrew, Jack, Jesse (dec), Sam, Tom and Ben, and great great aunt to five nieces and nephews. Janet lived a full and remarkable life and will be greatly missed by her family and friends both in Australia and overseas.