TAP Gallery is an Incorporated Association and registered as non-profit. It functions as a non-curatorial visual arts space-servicing artists in all forms of art practice in the inner-city of Sydney. Also known more affectionately as 'the artists paradise', it was established in 1989 first as an artist studio at Ten Taylor Street, Darlinghurst and opened its doors to the public in 1990 at a time when there weren't many galleries accessible to emerging, or independent artists to exhibit.
"I went, 'what, what!' And she said, 'you can have it for $100 a week'. So I got a group of friends together and we started hiring it but it was a bit difficult going to arts school and using it and I used to make the joke going up the stairs everyday that, 'can we mind it at night, we'll move in and be caretaker'."

Lesley Dimmick interviewed by Angela Stretch
The founder and current manager of TAP Gallery, Lesley Dimmick OAM, developed a policy that enables anyone wanting to exhibit their art to have a space for it to be showcased at affordable and competitive rates.  This has been maintained from its inception to the present day where the Gallery now operates from its current premises in Surry Hills.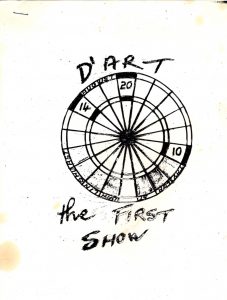 Ten Taylor was renamed after the relocation of operations to Palmer and Burton Streets, Darlinghurst in 1993.  The acronym TAP, can be understood to reference /TA/ an abbreviation of Taylor, and coupled with /P/ for Palmer.  The metaphor holds us in the pipes of a faucet in which we flow outwardly.  There from the inner realms an artist begins to navigate a journey through the tubular industry by funneling their creative enterprise.  They pass many a dark curvature and are guided in an assured direction to push their art out, ready-or-not, it arrives like some fountain in varying degrees of pressure it releases the life inside-out to an expecting, and often unexpecting reception.  Its substance —  an experience of the senses neither positive, or negative.  Think of a reservoired audience with no regulating control of the comings and goings.  TAP functions as a valve, a main artery of art-stuff getting out. TAP is a mechanism of cultural release and for 30 years has been providing an outdoor fixture to showcase art.
TAP Gallery operates principally as an art gallery, and also runs drawing and painting classes, in addition to hosting film nights.  Theatre and performance were once staged on a regular basis at the Palmer and Burton Streets premises, but local Council regulations at its current site do not permit theatre under its current lease arrangement and as a consequence performance has been restricted to an occasional event.
The philosophy of TAP is to provide a friendly and welcoming Community Art Centre, giving a platform for all the arts.
Everybody is welcome.
TAP Gallery
259 Riley Street, NSW 2010
Sydney, Australia
m – 0400 610 440
e – info@tapgallery.org.au
w – www.tapgallery.org.au
Opening hours 12pm – 6pm
7 days a week