Elizabeth Burton, pushed dressing up-and-down to the extreme, making it absolutely essential to her art.
Donning costumes, embodying the spirits of our culture, Elizabeth—Liz— took on the almost shamanic function of reanimating the icons that hold us all in their thrall. She herself is the archetypal heroine born of the sea whose quest through the epic structures of human experience was to extrovert the inner-life of the outer-life.
Her performances were like those images of beauty, of sexuality, of wealth and power that are emblazoned in neon, projected into our cabaret palaces, beamed into our lives. By aping our cultural myths, she became one herself.
While one's body changes on its own terms, the self is constituted of change; defined by change, subject to change, open to changes, a vehicle for transformation.
'My body is my home, my transportation, my instrument, the temple of my God and my sexuality'. Elizabeth Burton was recorded by Gina Lennox for Legend of a Goddess, People of the Cross, Simon & Schuster Australia (1993).
The relationship between self and each body varies. Body determines self and self-transformation is an artist's domain. Message and material decide the choice and nature of both and since the beginnings of sculpture the forms of the human body have been a favourite aim of artistic expression. The manner in which these forms are rendered in Liz's performances would reveal the ascetic and mystical conception that holds corporeal beauty as a temptation to sin, and an obstacle in the path of spiritual elevation.
Liz seemed to be destined to stand in the open-air, with vast, all embracing perspectives, on stage. A figure catching ardent life in the order and righteousness of common truth and the measure of universal truth is as classical as William Zorach's, Spirit of Dance.
In a career that spanned over half-a-century Liz's statue remains luminescent, her performances were radical then and are radical still, in part because they hold conventional notions of distance maintained by performer and the subjects she would perform to.
"I got to be 50, and I still wanted to dance, so instead of doing striptease, I did dress tease! I came on stage, naked and put my clothes on which made them laugh and you know—was a bit of a different trick." Liz went on to perform hundreds of shows at TAP, while offering hands-on support behind the scenes. She spoke to me for the Running TAP Book Project (2014), after cleaning the toilets for Lesley in Palmer & Burton in Darlinghurst. Theirs was an endearing relationship, having met at the Piccolo café and bound in creativities at the National Art School, when Liz started her studies at 50.
'Offstage I have always felt a bit like an ugly duckling, but on stage I feel wonderful. I feel that I am beautiful, I am a goddess, a living sculpture created in the image of God'. Elizabeth Burton, Legend of a Goddess, People of the Cross, Simon & SchusterAustralia (1993)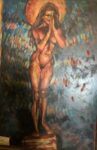 All of us bring to the subject our attitudes towards nudity and the act of stripping to our own bodies. Liz however, was less encumbered than most. Her exposure to the conventions associated with beautiful bodies sharpened her desire to break through these notions in her personal work. For those of us living in the chaos of the 21st century, her body itself with its arms in meditative prayer, is the link between the exterior and interior: to become the mythic nature of self-liberation, of giving our bodies back to ourselves.
Lesley Dimmick © 1998, Elizabeth Burton portrait, painting, 69 x 98 cm.
Photograph, Wolfwerk
Photography, RTBP, 2022.
Following the sell-out of Goddess (2021), a cabaret production chronicling accounts from her life, produced by Performing Lines and starred Liz, a fundraising campaign to publish her memoir, Around the World in A G-String has been initiated. Donations can be made: HERE
Lesley Margaret Elizabeth Burton (1947 – 2022) is survived by her daughter Libity Burton-cloyd and two grandsons Odin and Bishop.
Angela Stretch. Running TAP Book Project, a story of 25 years of TAP Art Gallery, 1990-2015, is to be launched later this year.