Taking ephemeral forms and capturing them in the permanency of wool.
Urban faces, spaces and attitudes made permanent in wool. The sass of urban life balanced with the pace of needlepoint tapestry. I'm saying that our urban environment empowers the women who embrace the colours, reflections, lights and brights. I'm inspired by the ephemeral and drawn to the mechanical nature of my textile arts practice. Within the repetition and toiling is a space that allows me to connect with my intuition and inspires me beyond the daily grind. The repetition of stitches echoes the pixels of digital work and the spray-paint used on the streets. I complement the stitches with photos I have taken and printed onto fabric, it offers texture, relevance and contrast. Ironically street art is fast, contemporary and masculine. Tapestry is slow, traditional and feminine.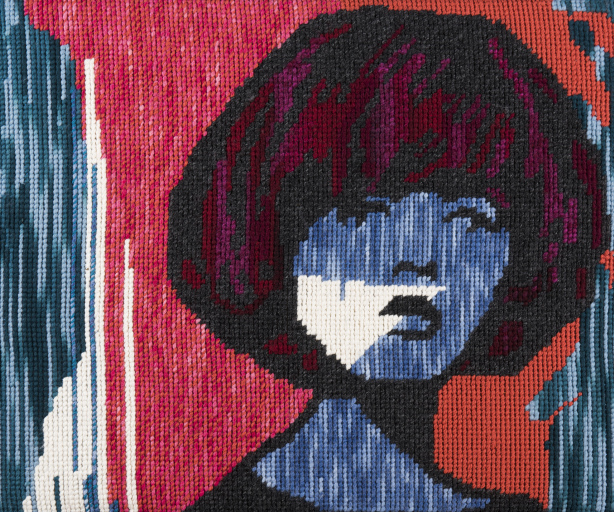 BIOGRAPHY
Nicki's education includes a Bachelor of Creative Arts (Textiles Major) at Wollongong University and a Diploma of Education from the Southern Cross University. She's received many art prizes; 2014 Waverley Art Prize – First Place – Mixed Media, 2013 International Women's Day Art Prize, First Place, TAP Gallery, Darlinghurst, 2012 Waverley Art Prize – Mixed Media, Highly Commended, 2011 Warringah Art Prize – Artfocus Gallery and Studio Honourable Mention, 2011 Waverley Art Prize – Mayor's Prize, Highly Commended and 2009 Waverly Art Prize – First Place- Mixed Media.